When talking about Search Engine Optimization (SEO), we tend to focus on content and backlinks. After all, they are more often than not the driving force behind a successful SEO campaign.
They also tend to be time-consuming, and require plenty of capital investment, taking away from time and resources that could be better spent elsewhere on campaigns.
My team is constantly looking for techniques which generate results quickly and efficiently. At times we have failed, but at times we have been very successful.
In this case study, I am going to show you how we helped a client increased website traffic by 52% with…
The Click-Me Technique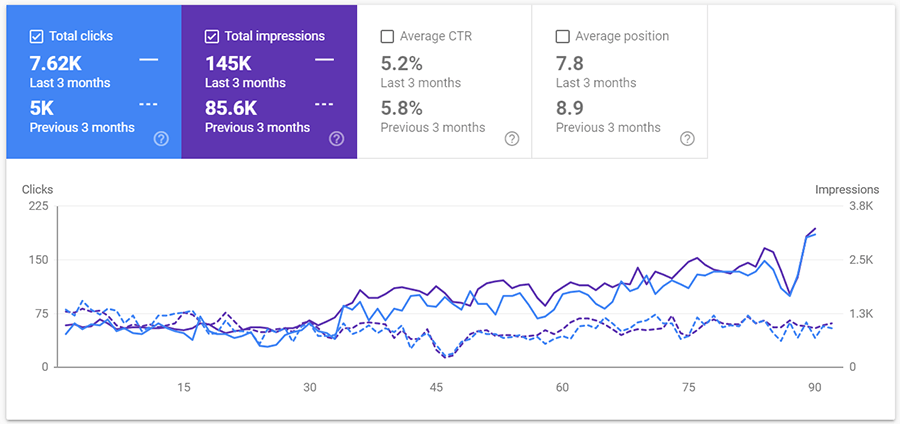 Our client runs an adult ecommerce store, SexyWawa.com, and sells adult toys and lingerie on their site. The graph above displays a three-month trend in impressions and click-through traffic to the site. It was during these three months that we helped our client increase their traffic and impressions with our techniques.
The total clicks increased from 5k to 7.62k by executing The Click-Me Technique alone. That is a 52% increase in website visitors.
Note: Before we continue, it is worth noting that this technique is most successful on a website with many pages. SexyWawa.com consists of more than 1200+ pages from products, category and brands.
The Click-Me Technique is fairly simple – make your meta title and meta description irresistible to click.
I will show you how to do it later in this post.
The Click-Me Technique is a phrase we coined because meta titles and meta description are 2 of the most neglected ranking factors.
In case you are new to SEO, meta title and meta description are snippets of text that describe a page's content.
Here's how they look like on a search result page:

Meta titles are usually the first thing to catch an audience's eye on the search result pages. This is your best chance to make a positive first impression, they tell your audience why they should visit your website.
On the other hand, meta descriptions tell your audience why they should visit your website.
As the name suggests, The Click-Me Technique entices an audience to click on optimized meta tags.
The best part about this technique?
You can do the same thing for your website.
The 3-Steps to Using "The Click-Me Technique" To Get Quality Traffic
There are 3 steps to The Click-Me Technique.
Step 1: Find Easy Opportunities
"Easy opportunities" refer to web pages ranked high on Google that receive few clicks. In other words, they suffer from low Click-through-rate (CTR).
These web pages could be any type of pages; homepages, blogs, product pages, category pages or brand pages, etc.
And here's how to find easy opportunities…
Login to your Google Search Console account. You will want to filter 2 things: CTR, and Position.
To start with, go over to "Performance" tab, and set your date to "Last 16 months". Click "Average CTR" to highlight the Click-through-rate data.


Scroll down and click the Filter icon.


From the Filter drop-down and select "CTR". Select "Smaller than" and enter 5 as the value. In my experience, you should try to achieve a CTR of 5% when your pages are in the top 5 positions.
Now you will need to filter position. Click on the Filter drop-down again and select "Position". Select "Smaller than" and enter 5 as the value.
Click the "Pages" tab and sort the results by "Impressions".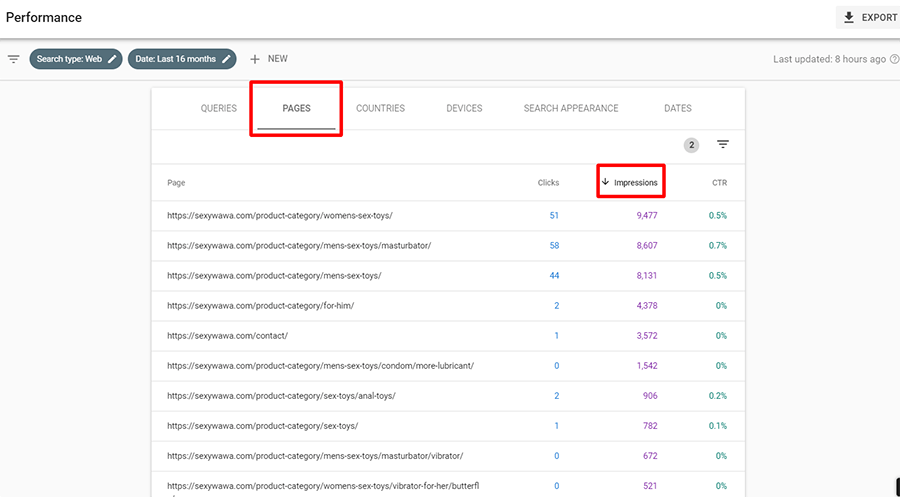 The results will show a list of web pages ranked on the top 5 positions with click-through-rate lower than 5%.
Step 2: Make Your Meta Title Better
Now you have a list of web pages to optimize for meta titles and meta descriptions at your disposal.
In our case, we have optimized a total of 15 web pages. Most of them are category pages and brand pages.
If your website is built on WordPress, you can take advantage of Yoast SEO plugin. This free plugin allows you to enter meta tags on your web pages.
Login to your WordPress site, scroll down and click "Edit snippet". Underneath you can update your "SEO title".

Meta title is usually the first thing audiences pay attention to.
Google only allows a title's to be a max of 65 characters. If your title is longer than that, the remaining characters will get cut. It's important to keep your message short and succinct. Say everything you need to say within 65 characters.
Here are my recommendations when it comes to writing click-worthy meta titles:
Place your targeted keyword at the beginning of meta title. In our case, the targeted keyword is "Tenga Malaysia".
Include key benefit. What will the visitor get from visiting your website? In our case, we included "Discreet Shipping".
Add power words. For example, Today, Right Now, Free, Fast, Best, Quick, Simple. The key is to trigger an emotional response in your audience.
Add modifiers. For example, "2020 Updated", "Top 10". A good modifier can make your title more relevant.
Step 3: Make Your Meta Description Better
Getting your audience's attention with titles is not enough. You need to convince them to visit your website.
And meta description can help achieve that.
Similar to the meta title, Google has a limit on the length of meta descriptions. For meta descriptions, Google allows 165 characters.

You can see the Meta description setting below the SEO title you optimized earlier.
Here's how you can optimize your meta description…
Keep search intent in mind. Ask yourself, what is your audience's intention when they search for your keyword? Is your content fulfilling their intention? In our case, when prospects search for "Tenga Malaysia" on Google, chances are they want to buy Tenga products. In the meta description, we inform them about our Tenga products range on the website.
Add targeted keyword and secondary keyword. For example, we added "Tenga vacuum cup" and "vibrator" as our secondary keywords.
Add Latent Semantic Indexing (LSI) keyword. LSI keywords are keywords that help Google to understand your content deeper. In our case, our LSI keywords are masturbation pleasure. You can get LSI ideas from Ubersuggest.
Include a Call-to-Action (CTA). What do you want your prospects to do on your website? Do you want them to buy products, subscribe to service, or book an appointment? Set a CTA and include it in the meta description.
After you optimize your meta title and meta description, repeat the process for the next landing page from the list we complied earlier.
Takeaway
You can apply The Click-Me Technique regardless of the size of your website, but it's most effective on a larger site. This technique leverages the amount of landing pages ranked on Google Page 1.
This technique improves your click-through-rate but not necessarily conversion rate. Your conversion rate is affected by factors like content and user experience.
Compare your results 2 weeks after optimization.
Comment below and let me know if The Click-Me Technique helps you to increase visitors!