Just like any other business owner, I am always looking for free or budget-friendly tactics to increase traffic to my website and grow my revenue.
In this case study, I am going to show you how I used the FAQ Schema tactic to boost my traffic.
The good news?
All work can be done under 30 minutes, at zero cost.
Don't have the time to read the whole guide right now?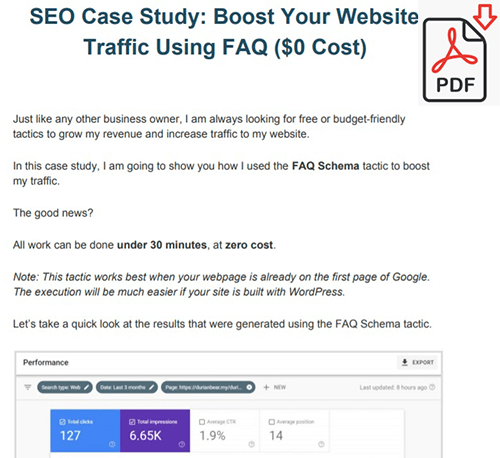 No worries. Drop your email below and I will send you a copy so that you can read it whenever it's convenient for you (takes 5 seconds):
[ninja-popup ID=2594]

[/ninja-popup]
Note: This tactic works best when your webpage is already on the first page of Google. The execution will be much easier if your site is built with WordPress.
Let's take a quick look at the results that were generated using the FAQ Schema tactic.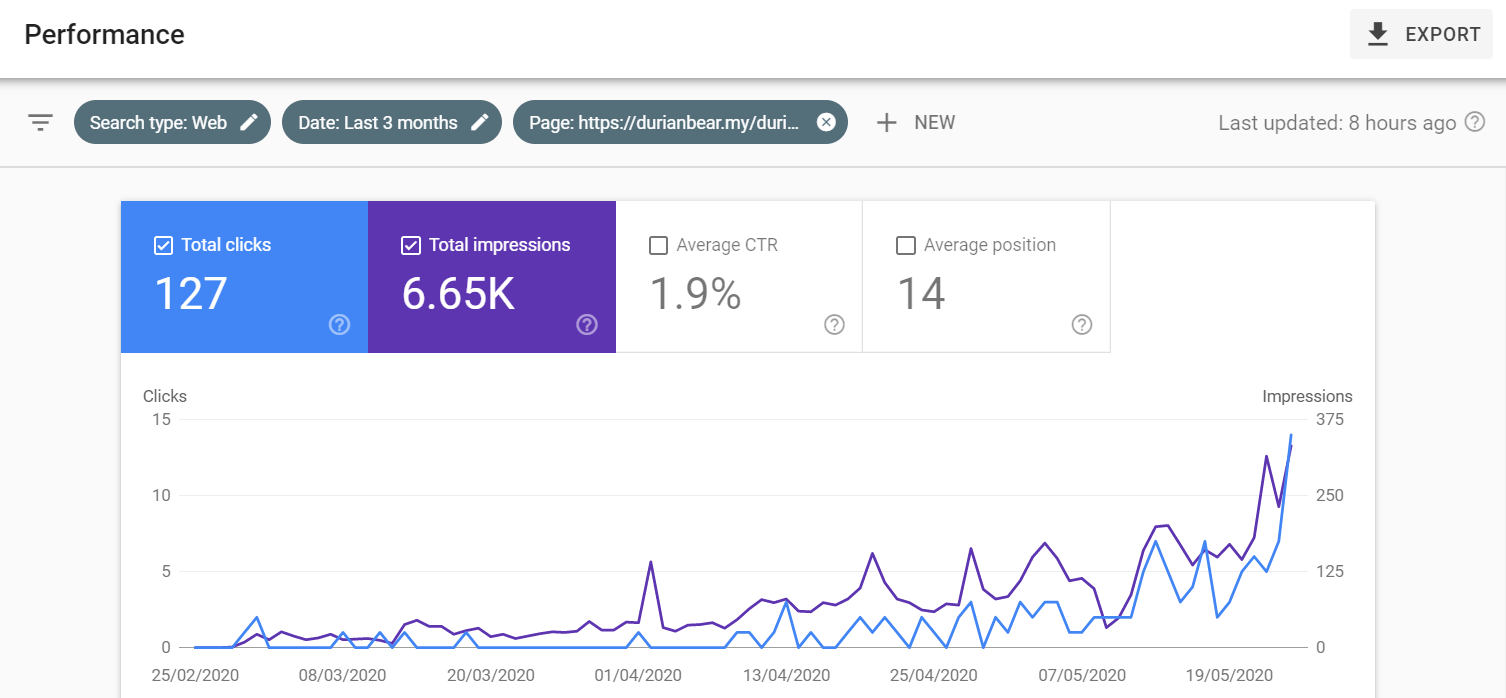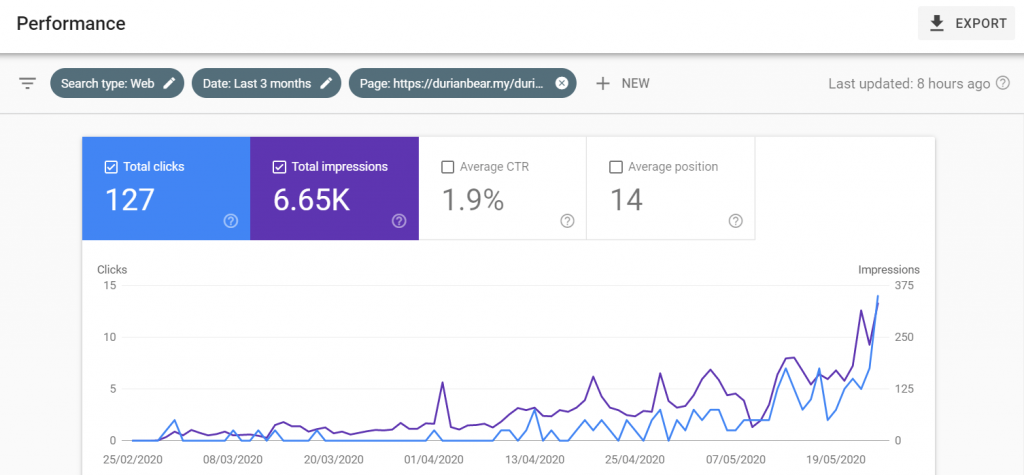 On 17th May, I added the FAQ portion onto my site without making any other changes.
As seen from the graph, the web traffic increased almost instantly.
First, What is FAQ Schema?
FAQ Schema is a set of codes that can be added to your website to display a list of Frequently Asked Questions (FAQ). It makes your pages more eligible for rich snippets in the search results; thus, improving how Google shows your website on the search result page.
Do not be afraid upon seeing the word "code". It can be easily embedded into your site with plugins such as Yoast SEO and Structured Content. Both of these plugins are free and easy to use.
Here is how FAQ rich snippet looks like on Google search result page:
Adding FAQ Schema to your website improves the way that your page is being displayed on search result pages.
It makes your listing more appealing, leading to more clicks and increased traffic. The results are often immediate.
Here is a step-by-step guide on how to implement FAQ Schema into your website.
Let's dive in.
Step 1: Create a List of Questions & Answers
The ideal FAQ page should have at least 5 relevant questions and answers. These questions and answers are those that you want to show on the search results page.
To guide you along, you can use the 4W1H method – Where, When, What, Who, and How.
For example, a water filter business owner can apply 4W1H to create the following questions:
Where – Where can I order your water filter?
When – How often should I change my water filter cartridge?
What – What is the best water filter brand in Malaysia?
Who – Who will be coming to my house to install the water filter?
How – How can I change the water filter cartridge myself?
You can also get a reference from Google by searching for the keywords related to your business.
On the search result page, you will see a section called "People also ask". This section consists of a list of questions asked by your target audience.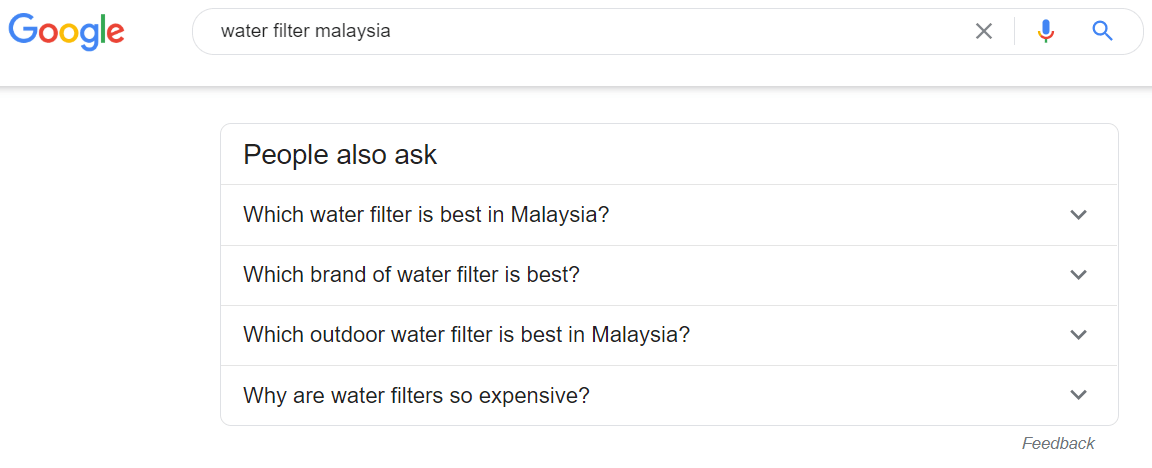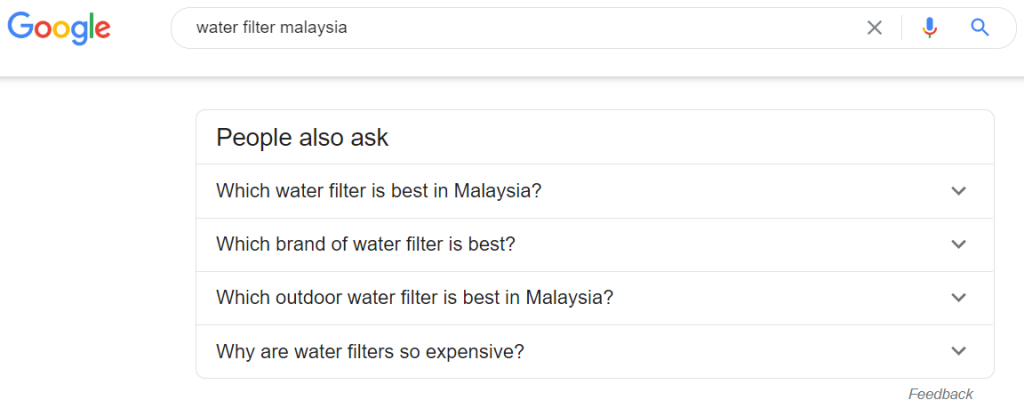 Step 2: Post Your FAQ on Your Website
Now that you have your FAQs ready, it's time to post it onto your website.
This step will be much easier if your website is running on WordPress, as you can install Yoast plugin or Structured Content plugin. Personally, I use the Yoast plugin.
Login to your website and edit the page that you want your FAQs to show on.
Scroll to the bottom of your web page and insert the "FAQ" block under "Yoast Structured Data Blocks".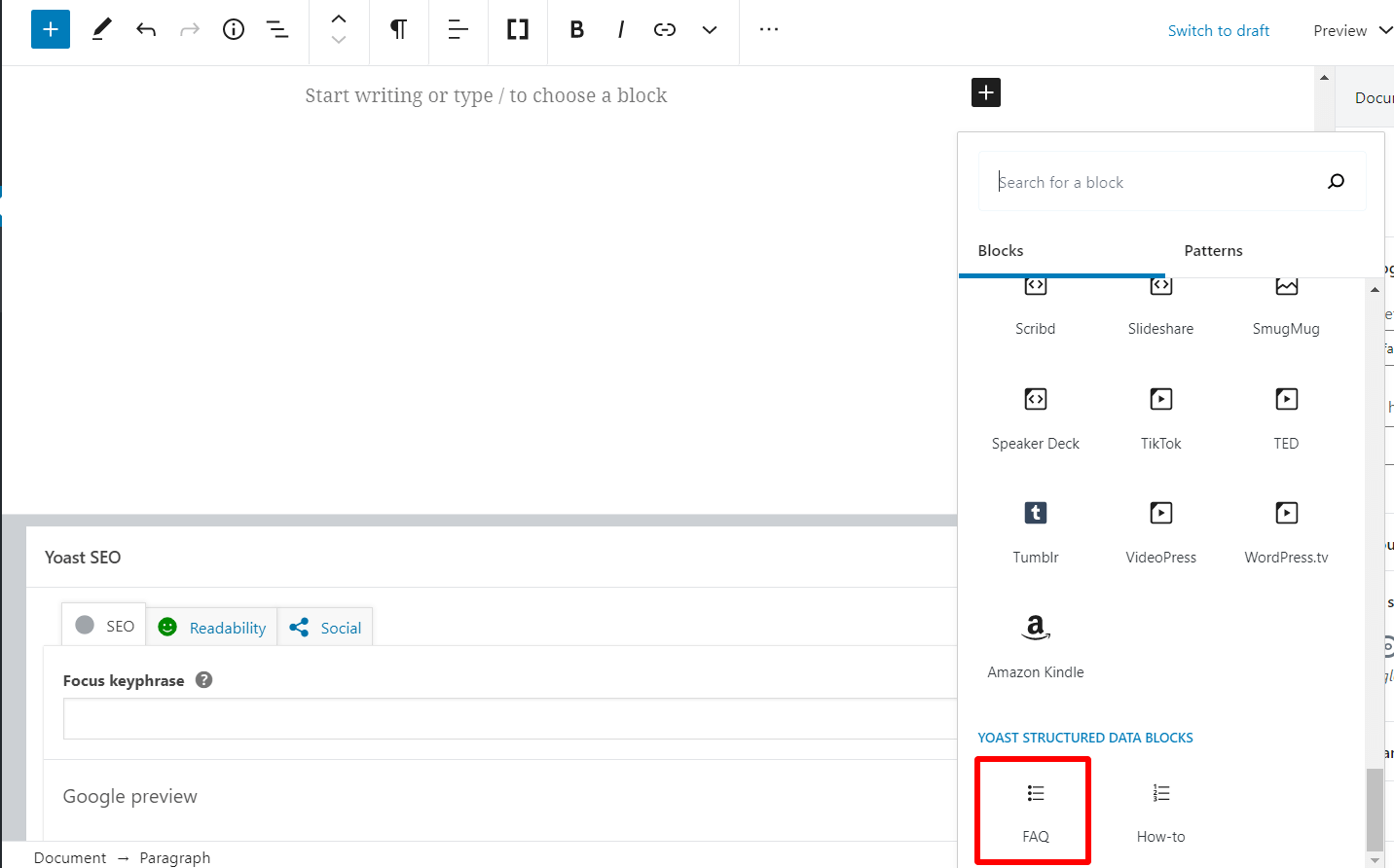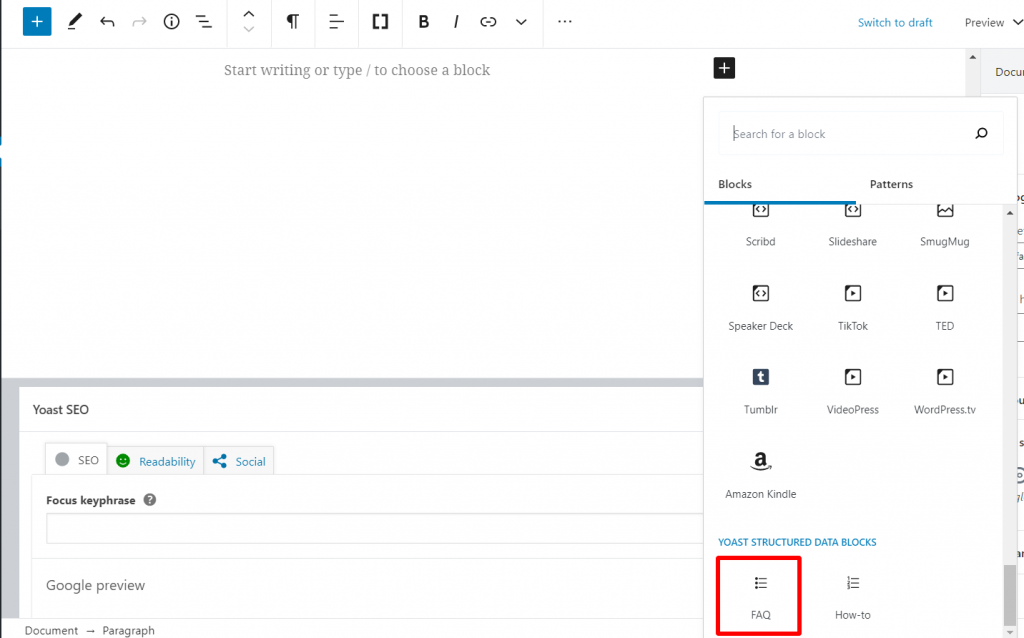 Now, you can simply enter your questions and answers.
Upon updating your questions and answers onto the page, you should clear your cache. In my case, I am using the Autoptimize plugin.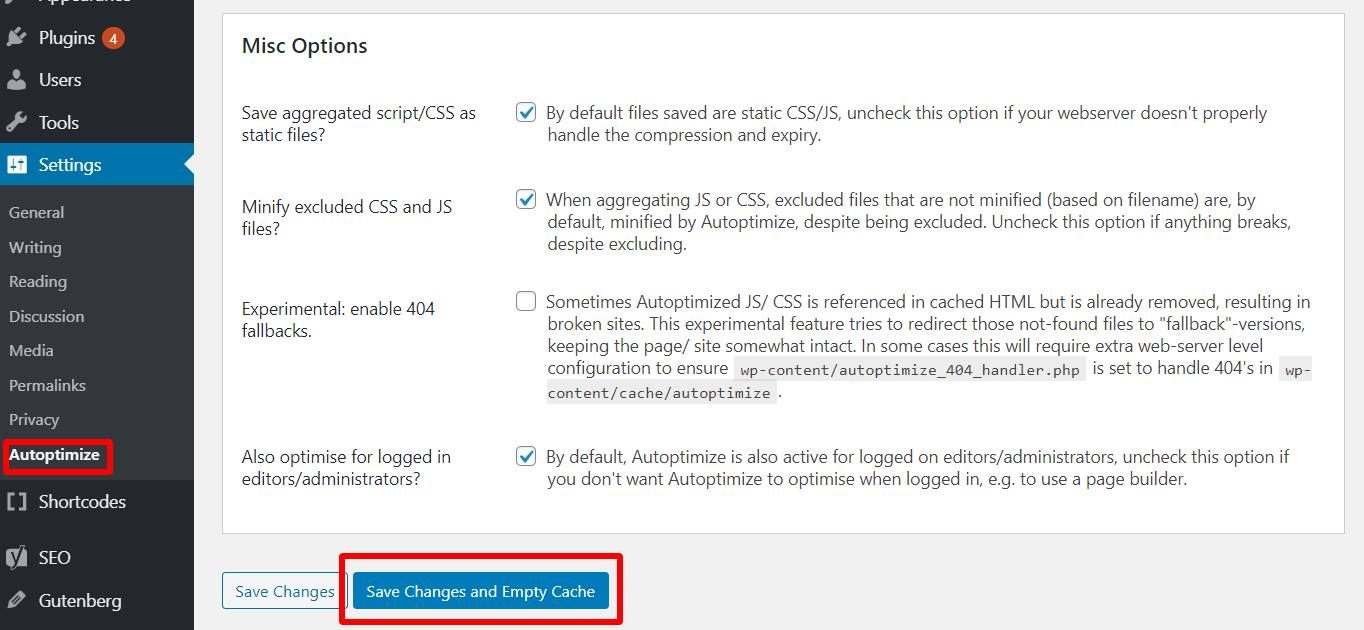 You are basically done!
Step 3: Invite Google to Crawl Your Updated Webpage (Optional)
This step is optional, but it will speed up the results.
To invite Google to crawl the page you posted FAQs, you will need a Google Search Console account.
If you do not have one, you can simply register here for free.
Go to your Search Console account and enter the URL with the FAQ section into the URL Inspection bar.

Click the "Request Indexing" button.


This allows Google to crawl and re-index your updated webpage.
You will usually be able to see the FAQ Schema being shown below your listing almost instantly. Otherwise, it will take a day or two for it to go live.
Final Thoughts
FAQ Schema is a simple tactic for all businesses to execute.
When done well, it will attract more visitors to your website.
Some people wonder if this tactic will be counter-productive. They think that the number of visitors to their site will be decreased since they can get the information that they want from the search result page directly.
This is not something to worry about. We have tested this FAQ Schema tactic on several websites and it has garnered positive results so far.
Remember, this tactic requires:
However, you can still use FAQ Schema without fulfilling the two points above. It will just require you to put in more effort and the results might not be as optimal.
This experiment was inspired by a digital marketer, Neil Patel. You can watch his video as he walks through the tactic.
Now, it's your turn to use FAQ Schema on your website and see instant results.
Let us know if it has been successful below!