Back in 2008, when I introduced my job to others, more often than not I would need to tell them what is SEO.
Today, that is no longer the case. Most businesses have recognized SEO as the most effective digital marketing tactic.
With more businesses are applying SEO, we have a new challenge: Which SEO KPIs are worth measuring?
What is Meaningful SEO KPI?
Meaningful SEO Key Performance Indicators (KPIs) have obvious impact on your SEO campaign.
They provide actionable insights in making business decision.
Some examples of SEO KPIs include:
Revenue attributed to organic traffic
Organic search growth
Ranking positions
Conversion rate
Measuring Meaningful SEO KPIs
In this article, I'll explain 2 meaningful SEO KPIs that we usually present to our clients. Let's dive in.
1) Organic Search Growth
As the name suggests, organic search growth is the increase (or decrease) of the organic traffic from Google over a specific time range.
Google Search Console come in handy when tracking organic search growth.
The time range we want to measure is usually 3-6 months.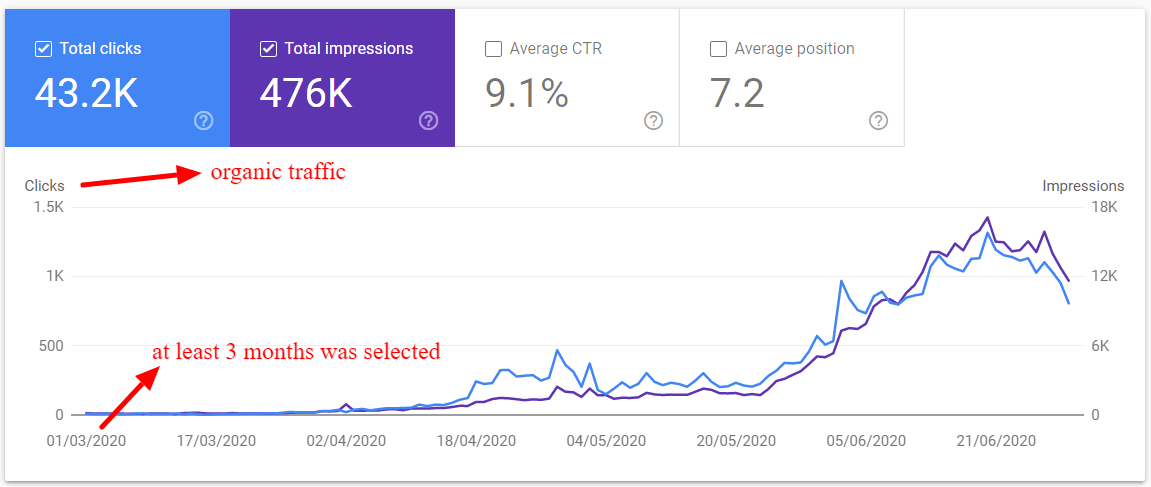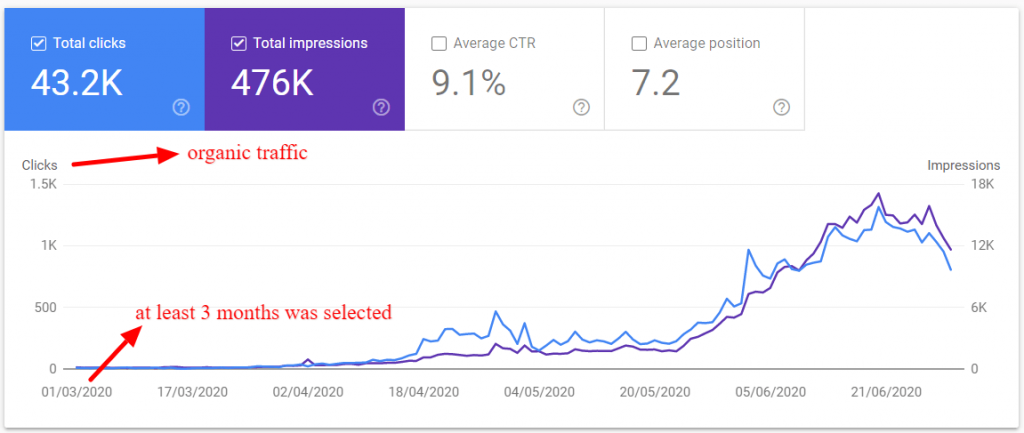 Organic search growth helps you to monitor the progress of your SEO campaign.
If your organic traffic is growing, you are most likely on the right track.
If you see your organic traffic stagnant or even decrease, you should look into it and find out the root cause. For example, if you are selling seasonal products like durian, a decrease of organic traffic in September is normal due to the decrease of market demand.
You can also compare your organic search growth with another period of time.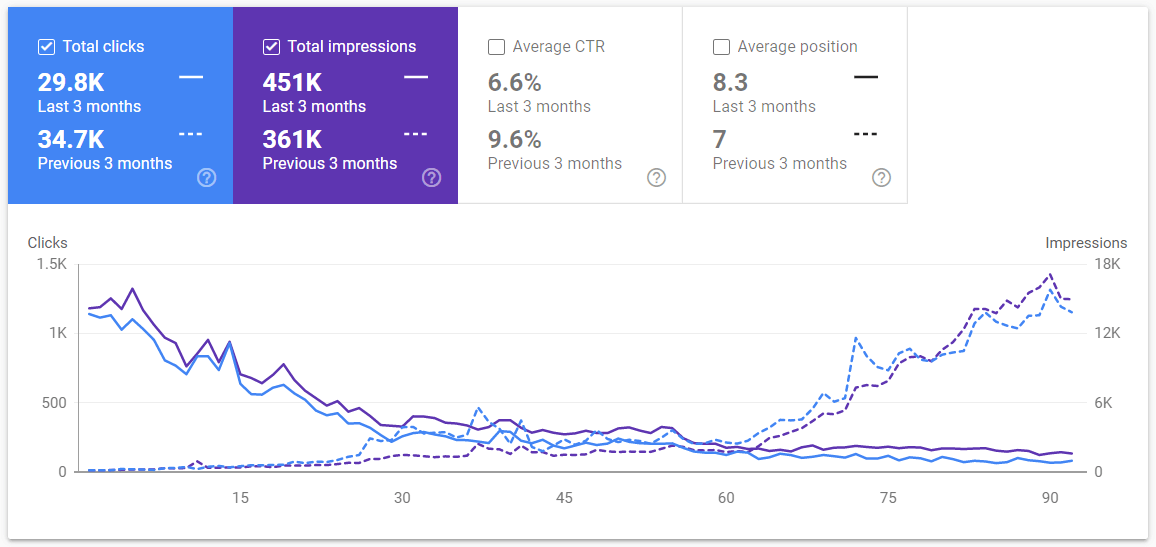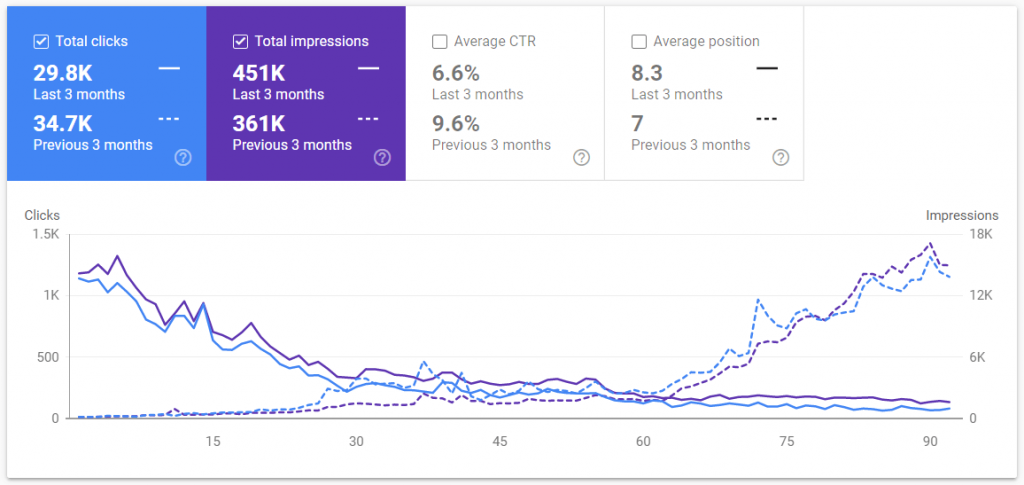 Comparison not only helps you to track the recent organic traffic (clicks), but it allows you to compare it with a previous period. This approach could justify the challenge of seasonal product as mentioned above since you are comparing apple to apple.
2) Revenue Attributed to Organic Traffic
At the end of the day, it's the revenue and profit that keep any business running.
Thanks to analytical tools like Google Analytics, you can set up goals and track the revenue credited to organic traffic.
You can even compare the revenue with other traffic source. For example, social media might bring you more traffic but less revenue as compared to SEO due to the buying intention.
Despite the fact that this KPI is meaningful for most businesses, we do not often use it on our client projects. This is because the set up is more complicated. Also, there are many non-SEO factors which could affect the business revenue.
Ranking Position: Does it Still Matter?
Ranking position is the most common SEO KPI you have probably heard of.
Afterall, "higher rankings = more traffic", right?
Unfortunately, not really.
Here are a number of reasons why:
Google Ads lower your clicks. Throughout the years, Google is making their Google Ads design less obvious as an ads. And with up to 4 Google Ads on top, there is no surprise you receive less clicks even if you ranked position #1.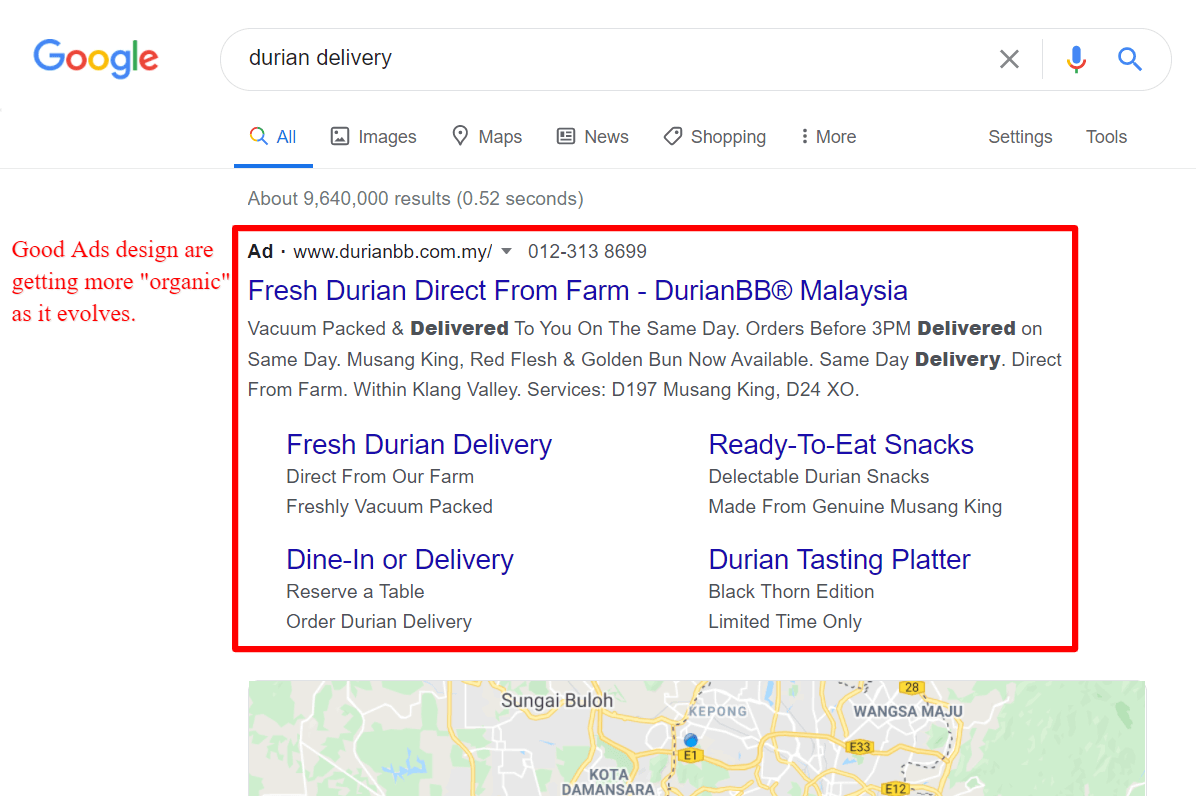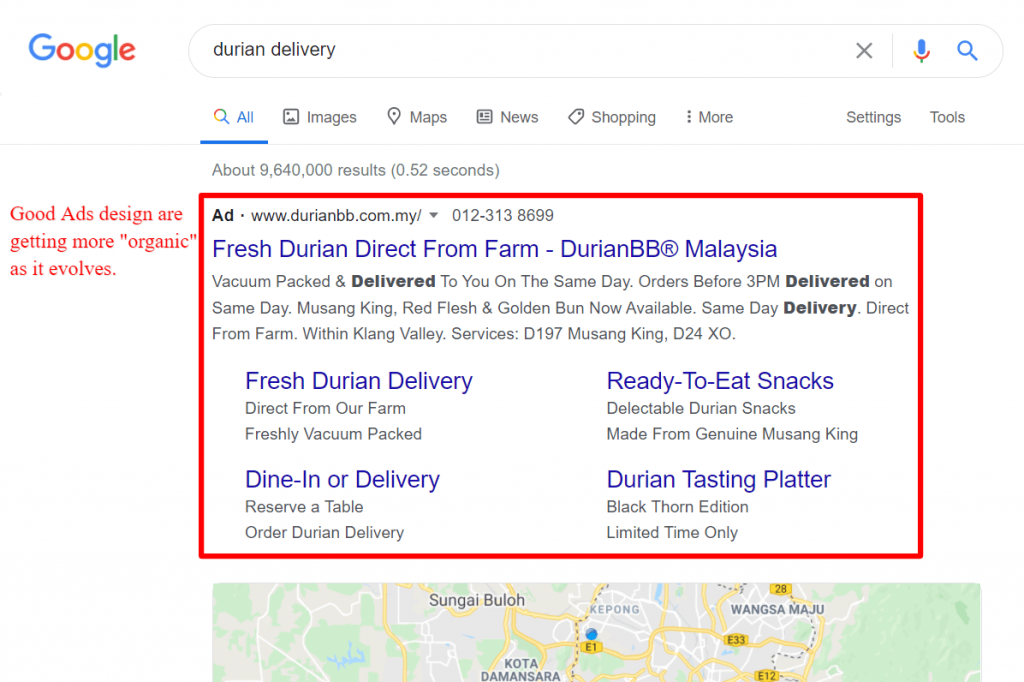 Google Maps lower your clicks. Google Maps help users to find places in their community. Combining Google Ads and Google Maps, it sometimes take 3-4 mouse scrolls until we see the organic listings.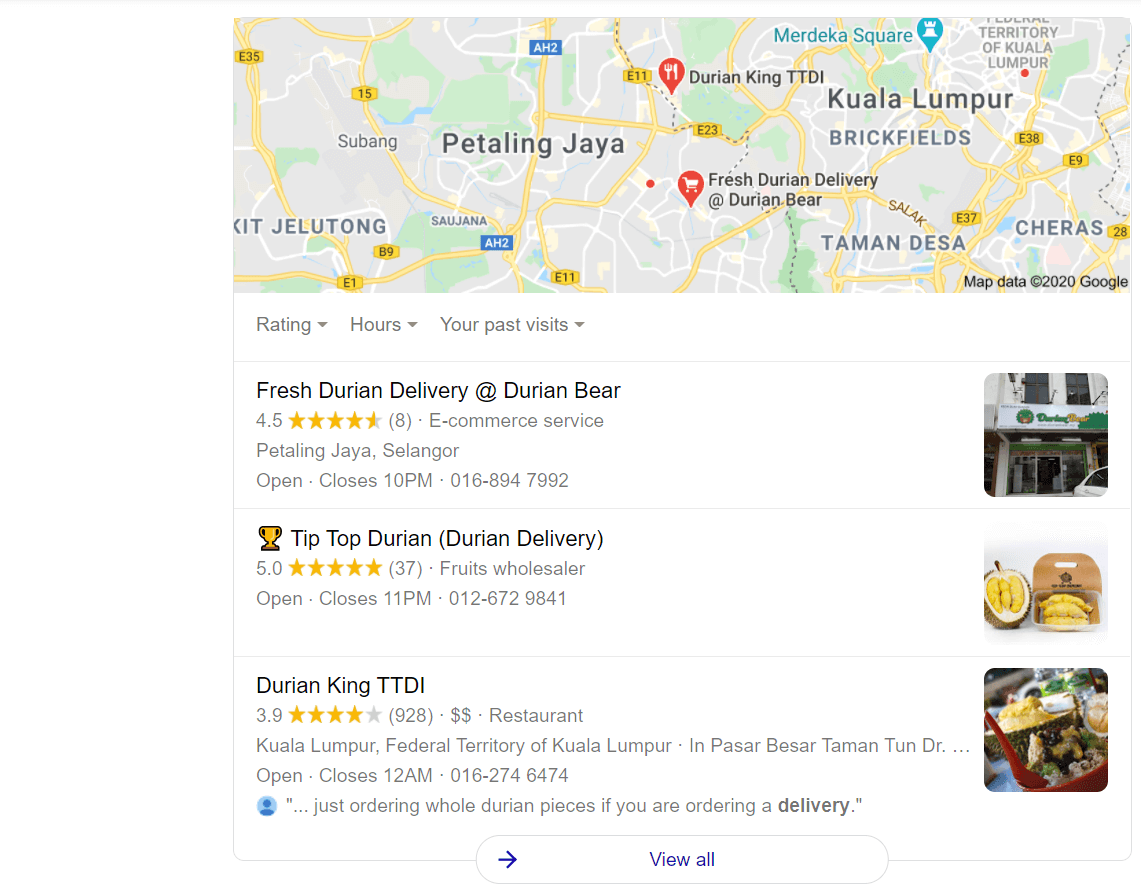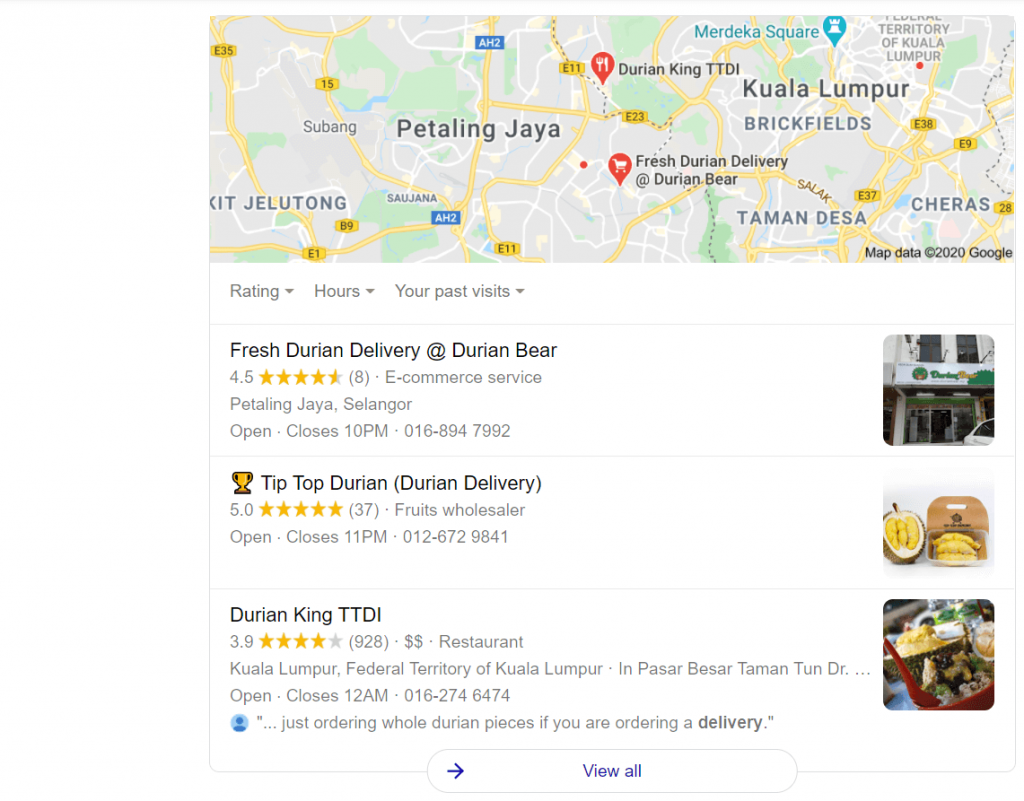 The keyword has low search volume. It is obvious that you would not receive many clicks from keywords that has only 10-100 searches per month.
Poor meta tags. Meta title and meta description are the first things most searchers would scan and decide if they want to enter your website. Poor meta tags can hurt your Click-through-rate (CTR). I have written a blog on how to improve your CTR.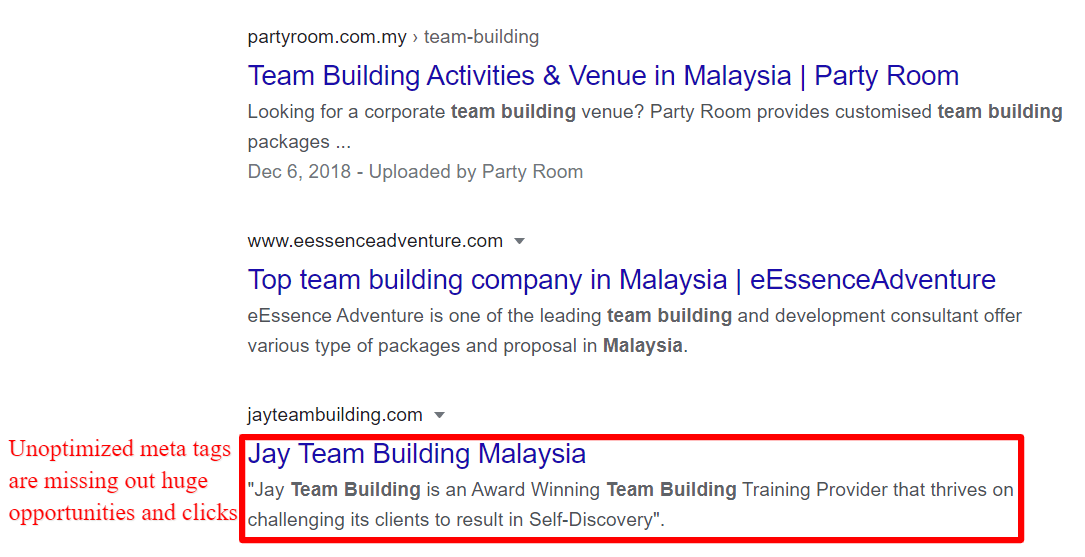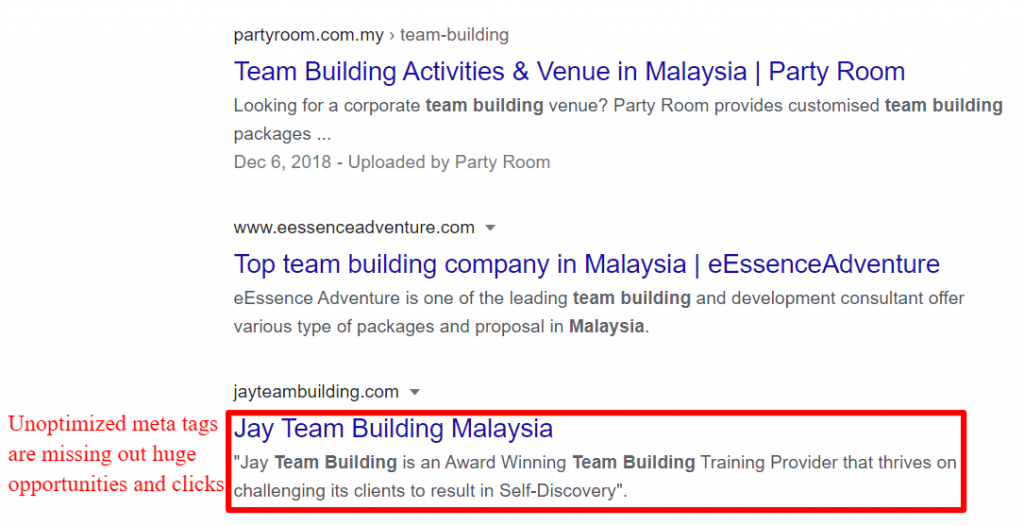 But Why Are There so Many SEO Agencies Still Measuring Ranking Positions?
1) It Makes the SEO Proposal More Attractive
If you engaged with an SEO specialist in Malaysia before, some of them would provide some sort of rankings guarantee (which is against the Google's official guidelines). This kind of guarantee might do more harm than good for your SEO campaign. In the future I can write another topic on this.
2) Rankings Are Easy to Understand
Ranking positions are self-explanatory: the higher, the better. It saves the time and energy of SEO providers to communicate SEO campaign performance to their clients.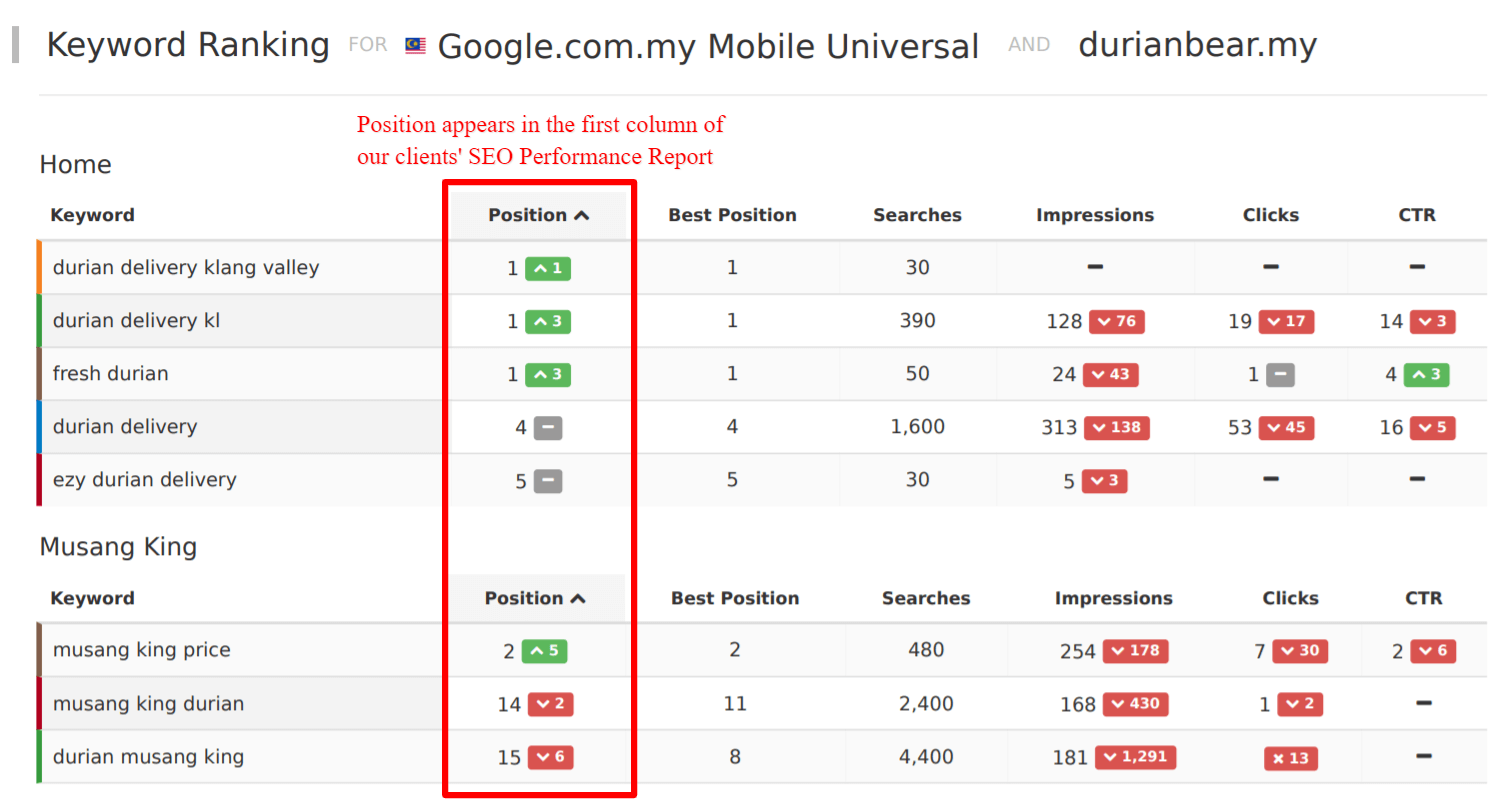 3) Rankings Can be Good Complimentary KPI
Lastly, many Malaysia SEO agencies are still using ranking positions as KPI because it still matters, at least to certain extent. Rankings can be good complimentary KPI as they generally have positive correlation with other key KPIs.
Final Word
Despite the fact that business revenue is the common goal for most businesses, every business is unique in terms of size, product range, and marketing strategies.
At JinMatic, we understand that clients want to hire us because they believe we can deliver the results while they can focus on other important task. Our clients are mostly busy people and they deserve the most straightforward communication from us. And this can only be achieved when we focus on meaningful SEO KPIs.
Claim Your RM699 Website Diagnosis for FREE
*limited to 1 diagnosis per company
Our manual diagnosis report shows:
★ Your existing ranked keywords.
★ Your biggest opportunities.
★ Bonus: 1 simple tactic to boost traffic using a free tool.