Sell More Units using JinMatic Property SEO
Have you been tirelessly searching for property buyers?
Stop searching and let them search for you!
Search Engine Optimization Specially Designed for Property Agents in Malaysia
Malaysia's property industry has been increasingly competitive over the years.
In order to get more leads and reach a wider customer base, it is important to know the current property buying trend and the behaviour of the potential customers.
"Real estate related searches on Google have grown 253% over the past 4 years."

Google Internal Data
---
"89% of home shoppers used the internet to search for a property agent."

National Association of Realtor
---
"89% of new home shoppers use a mobile device during their search."

Complete Home Shopper Mobile Survey
---
Looking at the statistics above, we can infer that buyers are searching for information about properties and property agents online nowadays.
In other words, you will need to have an optimized site that is ranked highly on Google.
With a high-ranking site, you will be easily found when potential buyers search for property agents on Google.
If the above is what you want to achieve, JinMatic Property SEO is definitely for you.
SEO (Search Engine Optimization) is a digital marketing tactic that can get you quality leads from Google.
Our SEO strategy is proven to be useful in pushing websites to the first page on Google Search.
Here are some evidences…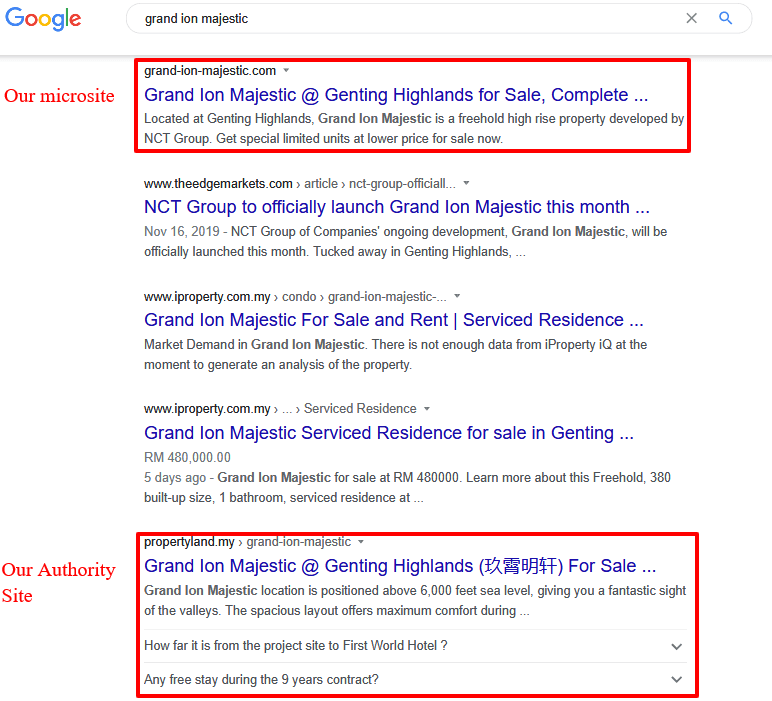 How JinMatic Property SEO Works
Prospects search for their desired property name on Google.
Your website will be shown on the first page of the results.
Prospects will contact you directly.
Benefits of using JinMatic Property SEO
Get More Leads
Our solid SEO strategy consistently attract visitors to the websites. Unlike social media ads, our traffic is highly targeted.
Saves Time
Our one-year contract (minimum) will provide you with support constantly. We take care on leads generation so that you can focus on bigger things (closing deals!).
Higher Close Rate
Unlike advertisements, SEO is highly targeted. Since prospects are already searching for you online, it will make it easier for you to close the deal.
JinMatic Property SEO Package Details
JinMatic Property SEO packages consist of 2 websites on a rental basis for 1 year.
Website 1: Microsite
Example: https://mlunakl.com
Keyword research
6-10 webpages
Quality content
Optimized meta title & meta description
Onsite optimization
Backlink acquisition
Ranking report (monthly)
Mobile friendly
Fast loading speed
Secured site
Website 2: Authority Site
Example: https://propertyland.my/m-luna-kl-north
Keyword research
Quality content
Optimized meta title & meta description
Onsite optimization
Backlink acquisition
Mobile friendly
Fast loading speed
Secured site
Frequently Asked Questions
Do the websites belong to me?
No, the websites are offered to you on a 1-year rental basis. In order to continue using the site, you can continue to rent it from us. To update the website with information and images, you can contact us and we will do it for you.
What are some examples of keywords that are being targeted?
We are mainly targeting property names as keywords. Examples include: 'Grand Ion Majestic', 'M Luna for sale', 'Lake City KL North', '121 Residences price', and 'The Valley Bentong layout'.
How long does it take to see the results of SEO?
This largely depends on the competition in the industry. In most cases, it will take around 1 – 3 months.
Any guarantees for the results?
The total search volume will exceed 500 per month.
What information do you need?
We need your project name. You can also provide us with any additional information.
What happens after the contract ends?
You can renew the contract at the same price or terminate it.
Will I get any reports about how the site is doing?
Yes, you will receive a monthly ranking report for the microsite.
What will happen if another property agent approach you for the same project?
In the event where 2 or more property agents approach us, we will only accept the 1st client that approached us.
Ready to Get Super Targeted Property Leads?